johnny December 6th, 2009
One of the biggest adjustments for me to make when we started this trip was cooking at home versus eating out every day. Jenn has risen to the occasion and made some wonderful meals, but I still had a craving for Thai food, which I used to eat several times a week. Thanks to Tony and Caro up in the Seattle Bay area, I have finally learned to make a passable curry! I've been making it off and on since before we headed to Alaska; and for the most part, I think I've got it down pat.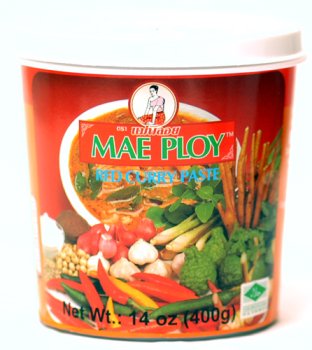 The first thing to do, is go to an Asian food store and pickup red curry paste. Yes, I know you can occasionally find curry paste in your chain supermarkets, but you can actually get a large enough container to make several dozen meals for the same price as the tiny one meal container you might find in a chain supermarket.  In fact, the last curry paste I bought was in the neighborhood of $6 for a 35 ounce container. I don't recall off the top of my head what the tiny containers you might find in supermarkets are, but I'd guess they're under 2 ounces for a similar price. We hit an absolute dearth of Asian food stores in Alaska and thankfully couldn't find the tiny containers either or I'm not sure I'd be able to live with myself.
Okay, that's the big secret. I don't have an actual curry paste recipe as that's way more advanced than I want to be in the kitchen. Once you've got the obscure shopping out of the way, it's one of the easiest meals you can make and still look fancy. As long as you're in the Asian food store anyway, you might as well grab some coconut milk and whatever you like in your stir fry. Often the prices there are better than chain supermarkets anyway.
You can make stir fry, right? If so, curry is a breeze. Just make stir fry anyway you like it (but without soy or teriyaki sauce!). Depending on what we have on hand, I will use chicken or pork, broccoli, carrots, green pepper, onion, bamboo shoots, mushrooms, baby corn and bean sprouts. I recommend adding things like baby corn, mushrooms, bean sprouts and bamboo shoots last in order to keep from overcooking them. Once you're done with the stir fry, set it aside and start on the curry sauce.
My personal method is to add a couple of tablespoons of olive oil to the pan over low heat and squirt out some curry paste into the oil. How much is up to you. I tend to like it fairly spicy so add perhaps 2-3 teaspoons. Next, add in coconut milk. Anywhere from half a can to a whole can for two people will work – depending on how hungry you are and how 'soupy' you like your curry. Getting the right amount of curry paste and coconut milk may take a little trial and error, but you can always add more paste if it's not spicy enough and more coconut milk if it's too spicy.
The next bits are optional, but I'll just tell you the way I do things. If you want a more panang style curry, you can stop right here.  For a sweeter curry, add about a tablespoon of sugar and stir it in. For an even more diverse mix of flavors, I usually add some small pineapple chunks along with pineapple juice. Depending on what you've added to your stir fry, you may or may not need to add a little salt. Bean sprouts definitely negate the need for extra salt. Just let this simmer and cook to your own taste. Remember that the flavor will be a bit diluted by your stir fry and rice.
Once you're happy with the curry sauce, toss your stir fry in and let it simmer for a few minutes. That's pretty much all there is to it. Serve over rice. We just use white rice, but get as fancy as you want.